Crown Cypress Assisted Living and At Home Care are dedicated to helping those who need assistance with their daily activities.  We provide assistance both in the home and at our location at 2424 East Stone Drive, Kingsport, TN.
At Crown Cypress Assisted Living, you will find a warm haven where people feel at home and can lead active lives, where family and friends feel secure that their loved ones are protected and fulfilled. Located in beautiful Kingsport, Tennessee, the community is built on one level and designed to enhance every aspect of assisted living.
As a locally-based homecare leader, Crown Cypress At Home provides a wide range of non-medical, in-home support services in the Tri-Cities area.  Our qualified and trained staff is dedicated to helping you remain independent, providing just the right amount of support you need to live life to the fullest. Rely on Crown Cypress At Home for compassionate care delivered in the comfort of your own home.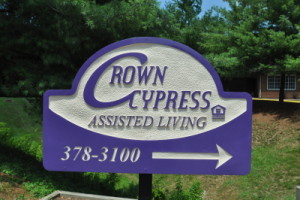 Check out our activities page for a list of the many things our Assisted Living residents enjoy, such as trips to the Bristol Speedway, the zoo, picnics, parks, museums, bingo, restaurants, etc. We take scenic drives and go shopping together.
And, be sure to visit the gallery where you can find a good sample of the many things our Assisted Living residents are doing.
Both our Crown Cypress Assisted Living and At Home Care help with bathing, grooming, housekeeping, transportation, companionship, medication reminders, laundry and many of the other things that are unique to each individual.
Many people prefer to stay at home rather than move to someplace new and different.  Crown Cypress At Home can help those that need home health care services (we provide non-medical care).  Or we can provide assistance at our location.  It's your choice and we will do all we can to provide help as you need and want, where you choose to be.
Please explore our site via the menu items or via the large circles you can find on our home page.