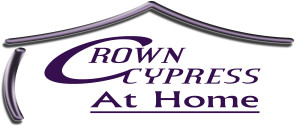 Crown Cypress At Home
We charge $20 an hour to help you or your loved one in the comfort of your home.  This rate goes down the longer we need to stay.  Our lowest rate is $16 an hour.
Our staff is trained, experienced, and insured.  In the hiring process, we do background checks and make sure we choose only those we'd be comfortable with having in our own homes or assisting our own loved ones. We also strive to find sponsors who can occasionally help with the costs.  Visit with us about financial options that might be available for you. Learn more about Sponsorship and Vouchers, too.
Please feel free to call us and let us give you a free evaluation.  Find out what we can do for you.  We're happy to be of service!