At Crown Cypress Assisted Living, you will find a warm community where people can lead active lives and where family and friends feel secure that their loved ones are protected and fulfilled. Located in beautiful Kingsport, Tennessee, the community is built on one level and designed to enhance every aspect of assisted living.
When folks come to Crown Cypress, they step into a vibrant, helpful community of peers and caregivers. Crown Cypress meets the needs of a growing population of adults who need a little help with activities of daily living but do not require nursing care. Our community encourages independent living and helps residents truly enjoy life with the peace of mind that caregivers are always there to lend a hand.
Crown Cypress provides the ultimate assisted living experience with spacious apartments, exceptional care from compassionate caregivers, and lots of fun! Our professional staff, engaging activities, numerous amenities and personal care plans distinguish this assisted living environment from others in Kingsport. We look forward to meeting you and serving your needs.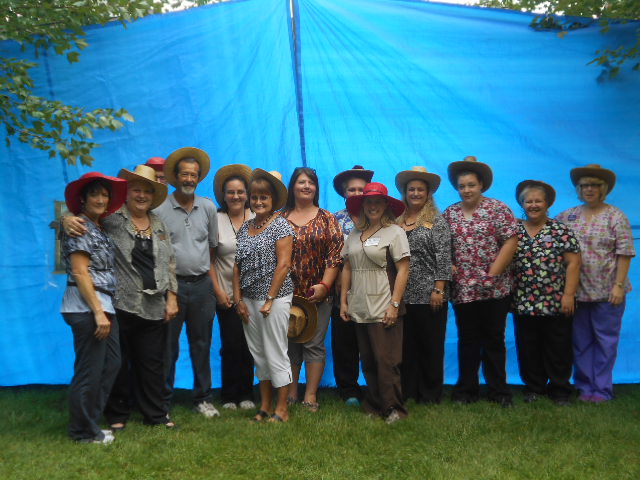 ---
Please ask to receive our Newsletter.  Please also let us know if you would like to receive updates about special promotions or activities.  
Give us a call or drop us an email.
---
What a blessing to find Crown Cypress ! The staff has made the transition from living at home to Assisted Living as easy and pleasant as possible for my friends mom. We were able to personalize her room and make her feel at home. She is quite happy at C.C. and is doing really well. She gets out more, exercises more and eats so much better since being at C.C. I love the attention to the smallest detail and the cleanliness of everything at all times.
Thanks to Crown Cypress, my mom has been fall free since she was admitted. 8 months without falls for my mom is a miracle! I trust the staff. They have taken excellent care of my mom-even being kind enough to honor her vegetarian diet-they have made special trips to the grocery to purchase Morningstar Farms foods so mom will enjoy her meals. Can't say enough good things about the staff. The facility is clean, they actually do activities- my mother was always reclusive- she actually has friends and plays bingo!!! She loves to win Snickers candy bars! I am so grateful to the staff- I can actually go to work and not worry if my mom is safe, she actually eats 3 meals a day now- I couldn't get her to at home, and she's more ambulatory now than she was at home!
Crown Cypress has been a wonderful environment to work in for the past few years. It's a pleasure to come to work and be greeted by the smiling faces of the staff and residents. It has been a pleasure for me for the residents here to allow me to work in their home and be a part of their lives through the years. I look forward to many more years to come.
A recent survey showed that 99-100% of our residents would suggest Crown Cypress to their friends as a good place to live.
Please ask to receive our Newsletter and let us know if you would like to receive updates about special promotions or activities. Give us a call or drop us an email.
Crown Cypress is a close-knit place. We are one big family full of love and care.
We have a kind, caring, and compassionate staff. They take pride in caring for the needs of the residents. Crown Cypress is a wonderful place to live.
I am the Business Office Manager at Crown Cypress. I have been employed by Crown Cypress since June 2011. I really like my job because I enjoy doing the duties of office work; but more than my job, I love interacting with the residents and their families. Each resident has their own personality so there is never a dull moment. I truly love them. I feel like they are a part of my family — which, in a way, they are. "One of my favorite jobs is when I am manager on duty on the weekend and I get to play Bingo and be the server at my Sunday Ice Cream Social. We have a great time.
This is home. I have everything I need. Friends help when I need it, and there is plenty to do. I love going out in the bus.
The living arrangements at Crown Cypress have met my needs in a well-kept, well-organized environment with staff of the highest ability.